A Beach Day To Chill Is A Must On A St. Kitts Holiday

Katy Holland
Due to the COVID-19 pandemic, restrictions and protective measures may be in place at time of travel. Please check travel advice and availability of activities at time of booking.
Cool beach bars, fresh fish, secluded beaches and thrill-inducing watersports: here's why a day chilling on the beach is a day well spent.
'Rush slowly' says a sign at the Reggae Beach Bar and Grill, one of the most popular hangouts on the island of St. Kitts. It could be a motto for the entire island, because anyone who holidays here learns the art of slowing down and chilling out very quickly.
Mellow, friendly, and infused with a pulsing soca beat, the vibe on St. Kitts has that classic flavour and laid-back feel of the Caribbean we all dream about. With flights from London with British Airways, you'll soon find yourself relaxing on the palm-fringed beaches or mingling with locals for sun-filled, fun-filled afternoons; the only difficult thing you have to do is decide which of the island's glorious beaches to pitch up on. And you can book with confidence, safe in the knowledge that you can change your date or destination if you need to.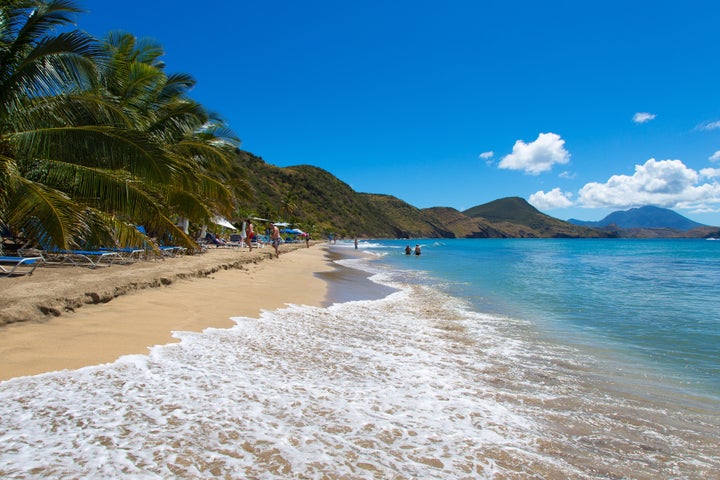 One of the best spots for a day on the speckled sands is Cockleshell Beach, on the south-eastern tip of the island. It's a beautiful, popular local hangout, a place to picnic, have fun in the sun and enjoy the calm clear waters. With perfect views of neighbouring Nevis, Cockleshell Beach houses a host of small, locally run eateries and bars, as well as Spice Mill Restaurant and the ever-popular Reggae Bar. When you're done relaxing on the beach, this watering hole is the place to retire to. Reggae beats, cocktails and fresh food are served up every day, and there's a Lobster Fest every Friday with live music.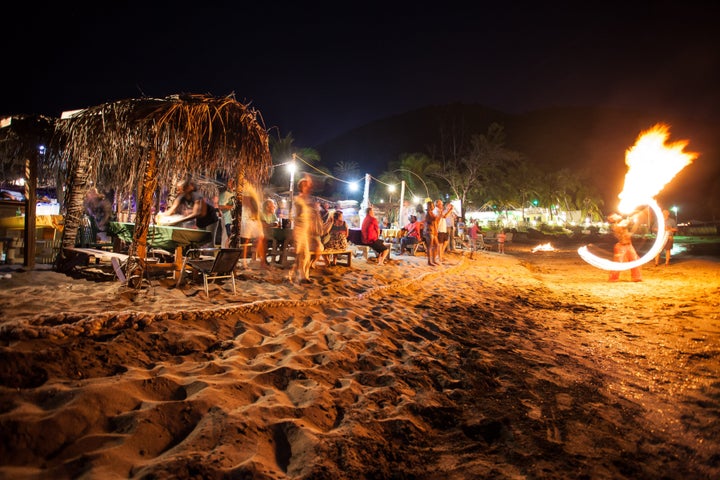 St. Kitts' number hotspot, with its array of beach bars, has to be The Strip, along Frigate Bay. When you're feeling peckish, it's worth stopping in at Mr.X's Shiggidy Shack, one of The Strip's popular beach bars, boasting friendly vibes and great views. This simple shack offers tables on the sand, fresh food and cocktails, and is an easy-going place for some beach time. If you want to spend an evening here when they have a live band playing - there's usually a bonfire too.
If you're a watersports fan, jet skiing, snorkelling and tubing will undoubtedly be a highlight of your tropical chill day. Zoom around the island on a jet ski adventure with Dave's Water Sports, disembarking for a spot of snorkelling above the coral-rich clear waters. Rent jet skis and tubes from St. Kitts Water Safaris, or book one of their exhilarating speedboat tours.
The water activities on the island are some of the real highlights of a holiday here. If you dive, join one of the many excursions on offer to some amazing sites: the pristine Coconut Tree Reef, with its hawksbill turtles, eels and schools of barracuda; Monkey Shoals - halfway to Nevis- with its coral-adorned limestone shelves and resident nurse sharks; and don't miss the wreck dives over sunken ships that have new lives supporting abundant reefs on the sea bottom.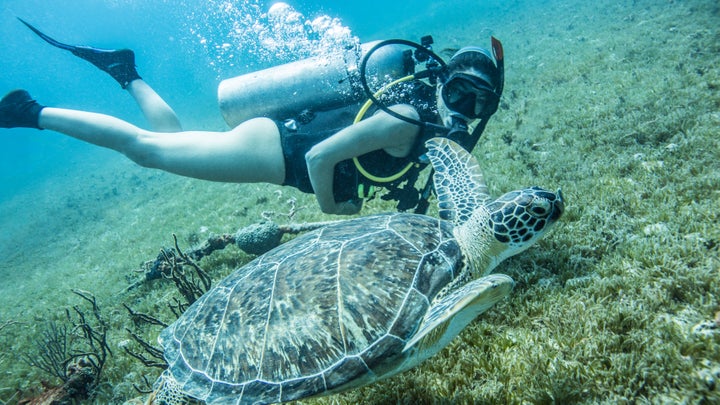 There's also good snorkelling right off many of the beaches; the sheltered, rocky outlet at White House Bay is particularly good, and the beaches of South Frigate Bay and Turtle Beach are also worth getting the goggles on for. If you want to take the fun to the next level, take a jet ski snorkel adventure, a two-hour tour from Cockleshell to lovely Shitten Bay, or hire a boat, go water skiing or even try your hand at fly boarding.
No beach day is complete without a good chow down, and it would be rude not to try the wonderful seafood while you're here. Many restaurant owners catch their own fish and seafood - including Sprat Net, the popular bar and restaurant on the outskirts of the historic fishing village of Old Road. Dishes are served straight off the grill, with filling johnnycakes, a must-try local delicacy, among the sides. Or go for the 'best fish tacos ever' - at the Shipwreck Bar and Grill, on Friar's Bay. In Basseterre, the Fisherman's Wharf restaurant has been a stalwart for diners for 30 years; it's a popular, upbeat restaurant where the fish is fresh and the conch chowder goes down a treat.
Explore the 3D map of St. Kitts by dragging your mouse or finger across the map in any direction. Click on the hotspots to get more information on each of the must-see destinations. If you are reading this on a compatible mobile device, press the 'View in AR' icon to place the 3D map in the real world and continue exploring it in Augmented Reality.
Dreaming of a St. Kitts getaway? Book something to look forward to and secure your Caribbean holiday with a deposit starting from £75pp. Book now and change later with flexible booking options. ATOL protected. Find out more at ba.com/stkitts.