A Beginner's Guide to English Wine Now We Can't Do Booze Cruises
When you think of fine wine, your mind may wander to the gently sloping vineyards of Bordeaux in the south of France or California's wine country – but perhaps you need to look closer to home. Because British wine is on the up.
There are fields of new vineyards being planted on our shores, driven by the excellent sales of English sparkling wines. Yes, we can do fizz, too. Annual production has doubled from just over six million bottles per year in 2014 to more than 15.6 million bottles in England and Wales in 2018.
After years of uncertainty around Brexit and coronavirus making travel to Europe an ongoing gamble, the booze cruise is currently a non-starter. But in place of of hopping over the channel to fill up the car boot with French plonk, why not turn your attention – and taste buds – to wines made right here in the UK.
Wondering where to start? Here's what you need to know about the scene how to look for the perfect pour.
Sunnier spells, better harvest
According to the Wine Standards Board of the Food Standards Agency, there are now more than 700 vineyards planted, spanning 2,000 hectares – a 75% increase in the past six years alone. The recent warmer and drier summers, coupled with a better understanding of soils and micro-climates, mean English vineyards are producing greater yields than ever.
"The sunnier climate has improved winemaking in the UK massively," Kristin Syltevik, owner of Oxney Organic Estate in East Sussex, explains to HuffPost UK. "It's obviously quite scary the earth is getting hotter, but a couple of degrees over the years has benefited us.
"Obviously, people have been growing grapes in England for many years, and vineyards across the country have been growing Germanic hybrids and different varieties, but they're not always the tastiest or the best grapes. Now we can grow types such as Chardonnay and Pinot Noir, which require a hotter climate."
If you're looking for an autumn holiday or a short weekend staycation, take a tour of an English vineyard and stay the night. Not only are you supporting local businesses, but right now is harvest season and it's the best time to visit.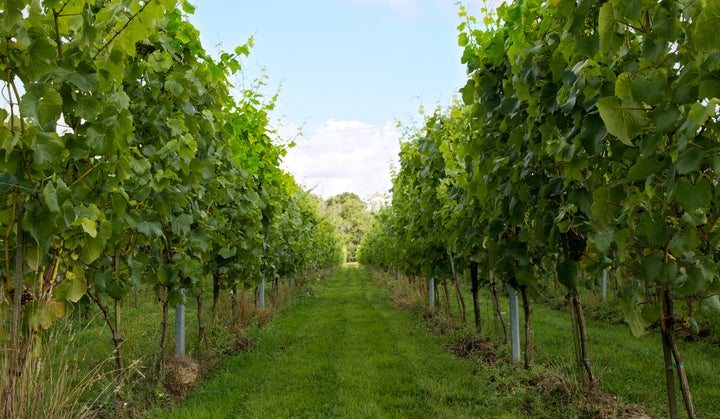 Mastering our craft
Over the years, English winemakers have been honing their craft – where there's no direct competition, winemakers learn from one another and it's a supportive industry – and we're now seeing the fruit of their labour.
"The knowledge and wine accessibility has got a lot better in this country since the mid-noughties, for sure," says Bert Blaize, expert sommelier, head of food and drink at Birch Community and co-author of wine guide, Which, Wine, When.
"People are curious and more open-minded to try new things rather than just saying, 'I only drink Sauvignon Blanc from New Zealand.' 2018 and 2019 were two of the best English wine vintages we've ever had a record in this country."
More people are willing to take a punt on English wines than ever this year, he says – the pandemic encouraged us to shop more locally, seasonally, and opt for artisanal produce when supermarkets shelves were bare from panic-buying.
"Of course, it takes a long time to kind of convince people that English wine is as good as its European counterparts," Syltevik adds.
"It'll take us a while to get everyone on the same page, but it's a brilliant product that's super tasty and has won many awards. Everyone should give it a try."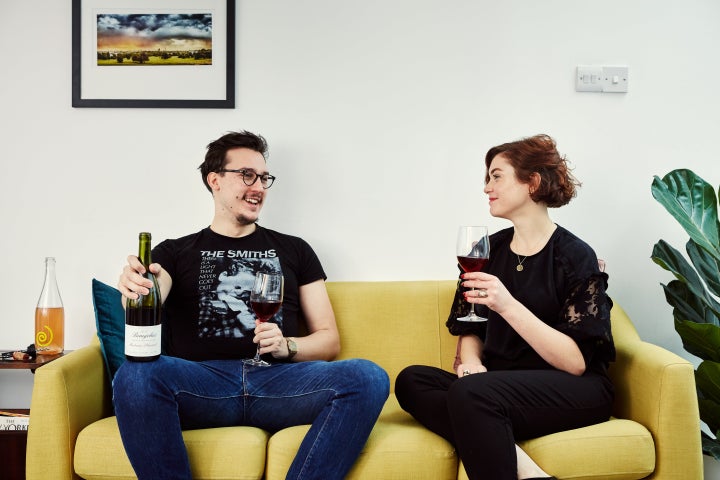 Decisions, decisions, decisions
When it comes to English wines, you can find increasingly good varieties on the supermarket shelves, as well as buying directly from vineyards and specialist wine merchants. It's not always going to be the cheapest option – a good bottle hovers around the £20-£30 mark, but supermarkets have options from as little as £11. Waitrose has a particularly wide selection, Marks and Spencer's is also good, and Tesco's website currently has both regular and sparking whites,
White wines have make up the bulk of homegrown wine for a while, but English reds are also improving. So what to choose? Organic versus conventional? Classics like Chardonnay or the new English Pinot Noirs? Perhaps something a little out there like Bacchus, Pinot Meunier or Ortega?
"I think naturally food and wine just go hand in hand. People are experimenting more with the kind of wines that they've been drinking," Blaize explains.
"If you're not sure what to go for then just break it down. I always like to think about wine, as a condiment. For example, if you're having fish and chips, you know there's loads of salt, vinegar, and perhaps lemon for the fish. It's immediately telling you that you need a lot of acidity, so opt for a white wine that's really dry with lemony flavours, so something like champagne or cava would pair really well.
If you're still unsure, there are always clues there; you just have to know where to look. "Keep in mind that generic rules don't really work for wine, because everyone's palates and taste buds are different and there's a huge variety of flavour combinations out there," he suggests. "Part of the fun is experimenting and trying new things."