An Insider's Guide To Most Stylish Drinking Dens In Edinburgh
Laura Martin
If UK cities were members of your family, Edinburgh would surely be your cool aunt: cultured, well-connected and - most importantly - always in the know about where to get an after-hours Old Fashioned.
The Scottish city's drink scene is thriving: from bohemian backstreet bars, to chi-chi cocktail joints and lively speakeasies all across the neighbourhoods, but in particular, with a cool little cluster around the New Town area.
In 2018, Edinburgh was recognised as a world-class city for boozing, when the American drinks experts Tales of The Cocktail shone a spotlight by relocating there temporarily with their Tales on Tour project. This four-day event celebrated Scottish mixologists' "energy and innovation" with a series of seminars, tasting rooms and cocktail crawls across the 'burgh, that highlighted just why the city is currently sparkling like a French 75 right now.
When's the best time to visit, you ask? Much like it always being five o'clock somewhere in the world, there's never a bad time to hit up Edinburgh.
The city has more pubs and places with licensed premises than anywhere else in Scotland, but the first bar stool we'd recommend pulling up is at Juniper. You can probably guess what's the tipple of choice here, and these guys obviously know their way around the old G&T.
With a historic setting - the drawing room of the former Royal British Hotel - the classic backdrop is modernised with some of the area's best modern berry-sourced spirits, such as Edinburgh Gin. Try their eponymous cocktail, or the theatrical Strawberries and Steam, in which a sweet fruit-scented plume of alcohol wafts over you before you take your first sip. Heavenly doesn't even begin cover it.
Like a bit of a back story to your drink? Then Bryant and Mack Private Detectives is the place to seek out. Hidden away in Rose Street North Lane, your best chance of finding it is from the queue that's usually waiting outside. To call this an intimate drinking spot would be correct: it seats around just 20 people, but it's well worth the wait to get in. It's the small touches that make this place so stellar: from the manila envelope delivered to you reading 'Confidential' (actually the drinks menu) to the documents entitled 'case closed' on leaving (that'll be the bill), there's a delicious edge of drama to your drinks in this ultimate speakeasy.
There's more prohibition-era vibes to be found at Panda & Sons, named last year as one of the World's Best Bars. The place is obviously hidden - through a supposed barbers shop and once inside, it's all vintage gramophones, Chesterfield leather sofas and antique lighting. Make sure to try their twist on a margarita: the Amor Joven, a concoction of mescal, tequila and apricot agave with smoked paprika, or their Shreddy To Rock, which boasts a Shredded Wheat-infused Sipsmith Gin.
If you think the perfect accompaniment to a stiff drink is a literary classic, then The Printing Press will be your jam. Make like Hemingway and enjoy a daiquiri while revisiting the The Old Man and the Sea at this writer's haunt, housed in the author Susan Ferrier's listed Georgian terrace. Ferrier was said to be the Austen of Edinburgh, so many aspiring scribes come here to soak up the spirits and hope to find inspiration within the bar's extensive whisky list.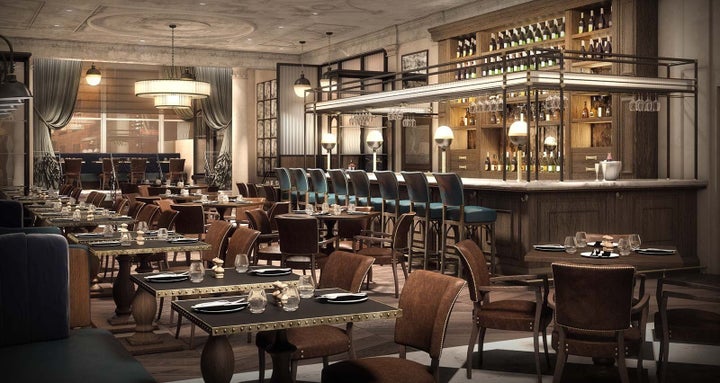 It's all about seasonal cocktails at the The Devils Advocate with a seriously hip setting: a former Victorian pump house. The bar is tucked away in the Old Town, and once you've found the wooden barn doors for the entrance, a cheery welcome awaits you inside. They've stuck with the exposed beam-and-brickwork look inside, making it an atmospheric stop off for a wee dram and to toast a successful cocktail crawl of the city.
Main image credit: Alexandre Godreau on Unsplash