Beach-Lounger Or Thrill-Seeker? You Can Be Both In Saint Lucia

Katy Holland
Due to the COVID-19 pandemic, restrictions and protective measures may be in place at time of travel. Please check travel advice and availability of activities at time of booking.
With an abundance of fun activities and some of the most glorious beaches in the Caribbean, you can be as chillaxed or as active as you like on Saint Lucia...

Saint Lucia packs everything you could ever desire from the Caribbean into one tiny island. Shrouded in rainforest, ringed by glorious sands and coral reefs, punctuated by soaring volcanic spires and plunging waterfalls, Saint Lucia's unique geographic riches and astonishing beauty make it the perfect spot for a holiday, whether you're after thrills and spills or a tranquil retreat.
When you're not busy soaking up the vibes on one of the island's many heavenly beaches, there's diving, hiking, horse riding, quad biking, ziplining, kayaking and a host of other activities to get your heart racing: name your thrill, and you'll find it here. You can fly to Saint Lucia with British Airways from London in around eight and a half hours. And you can book with confidence, safe in the knowledge that you can change your date or destination if you need to.
For those in search of glorious sands, you're spoilt for choice - and, as there are no private beaches on the island, you can lie on every single one of them if you feel so inclined. The beautiful, breezy east coast is pummeled by Atlantic breakers, while the more sheltered west is gently lapped by the Caribbean Sea. Whichever coast you visit, you'll find it hard to drag yourself away.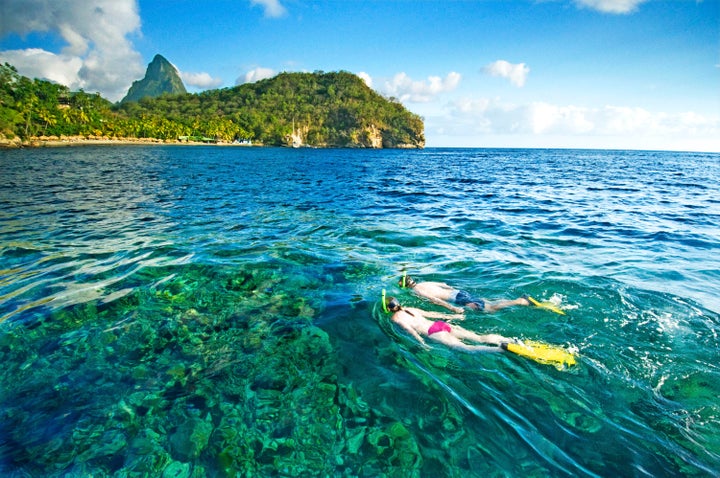 One of the island's most spectacular stretches of sand is the naturally curving bay at Anse Chastanet. Fringed with swaying palm trees and framed by rainforest and volcanic peaks, it's no wonder that this World Heritage Site is regularly named one of the most beautiful beaches on the planet; it must be one of the best places ever to just sit and do absolutely nothing.
Further along the coast, the heavenly Val des Pitons, aka Sugar Beach, nestles in the cleavage of the iconic Pitons. It's a delectable location, with blissfully calm waters and sparkling white sand. Sun loungers are free for guests staying at Sugar Beach, a Viceroy Resort, or you can hire them from the luxury hotel, which also rents out kayaks and snorkelling equipment and offers irresistible food and cocktails.
At the northern tip of the isle, Cas en Bas beach boasts a wonderfully protected cove, where the water stays calm and glassy. The bay is kissed by trade winds that make it a kitesurfer's paradise, so you can be lounging on the sand one minute and flying through the surf the next.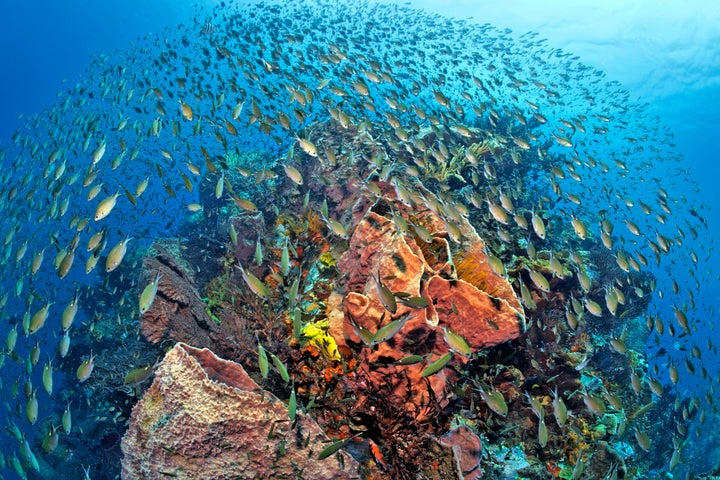 Saint Lucia's National Marine Reserve takes up a swathe of the south west coast, making it ideal for snorkelling and scuba diving. The scenic splendours of the island are duplicated underwater; as you dive, you'll see pristine white sand, volcanic pinnacles, shipwrecks and coral reefs, as well as a multitude of marine life. There are more than 20 world-class diving sites on the island, suitable for everyone from absolute beginners to avid dive nuts; for those who prefer to snorkel, a plethora of beautiful shallow reefs await.
Sea kayaking is also a must for any thrillseeker visiting Saint Lucia. Take an exhilarating kayaking tour from Soufrière to the Pitons and you'll be wowed by spectacular views of the sheer mountains, which jab the skyline from the sea, to a height of nearly half a mile. There's also a host of unmissable guided sunset kayaking tours around the coast, as well as trips to some of the island's most inaccessible deserted beaches.
Away from the glittering coastline, you'll find much more to explore. Saint Lucia's mountainous terrain means breathtaking scenery wherever you go; you can hike to jungle-clad waterfalls, or, if you're reasonably fit, don your climbing gear and tackle the Gros Piton (2,618ft). The hike is breath-taking in both senses of the word; reaching the summit rewards you with spectacular views of the nearby island of St. Vincent.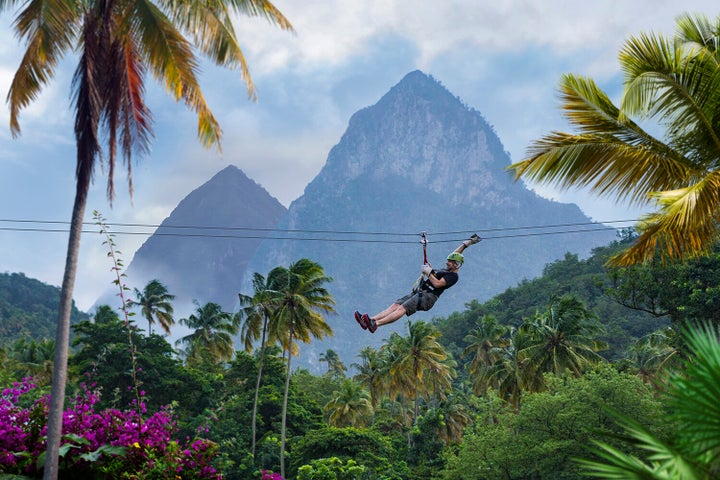 Talking of wonderful views, one of the most thrilling experiences on any visit to Saint Lucia is a zip wire journey through the lush rainforest. At Rainforest Adventures, in Babonneau, take the Adrenaline Zipline Tour and glide through a series of foot-tingling high wires under the mahogany canopies. There's also a wonderful, gentle, rainforest aerial tram ride to take you through the flora, fauna and wildlife; you'll spot iguanas, tiny hummingbirds, and a host of other rare species.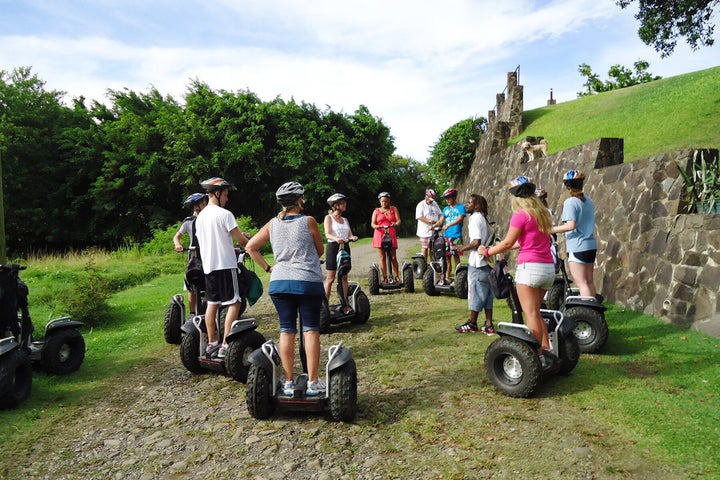 For a totally different way to see the island, spend a morning on horseback exploring the coast, or book one of Saint Lucia's ATV quad biking or Segway tours. Fun and adventure abound as you convoy through plantations and rainforest, learning about the island's plants and wildlife along the way. These small group tours are ideal for anyone looking for an exciting way to explore the island's diverse landscape - but whether you decide to fling yourself around on a thrill-seeking adventure or plump for the views from a beach sunlounger, you're guaranteed to want to come back for more.
Dreaming of a Saint Lucia getaway? Book something to look forward to and secure your Caribbean holiday with a deposit starting from £75pp. Book now and change later with flexible booking options. Find out more at ba.com/saintlucia.