How To Win At Monogramming Without Becoming An Addict
Marisa Bate
When I was growing up, all I ever wanted was a black rope necklace with my name spelt out in silver letters. As I trawled tacky tourist shops on holiday or walked through market stalls on a Saturday morning, my eyes were alive like magpies. I looked and looked and looked. But I never actually found one. I didn't know anyone else with my name but I also didn't believe I could be the *only* person on the whole planet called Marisa. And of course I'm not. But evidently, it was never considered common enough to make into a £3 necklace for a 10-year-old.
Now I'm in my early thirties, the desire to wear my name - or the grown-up version of initials, at least - hasn't gone anywhere. My gold Monica Vinader pendant inscribed with "MB" given to me by my chicest friend, a newspaper fashion editor, is one of my most prized possessions. (For a while, I wore a different kind of self-identifying necklace. On a gold chain, the words "Omar's girl" hung proudly around my neck. Die-hard The Wire fans, like me, were impressed; everyone else was confused).
So what is it that we love so much about wearing our own initials on our most luxurious items? Surely our era of globalisation must have something to do with it? After all, you can fly across the world and still find the same shops so maybe we're all seeking something that gives us individuality and personalisation? Furthermore, in our selfie-obsessed world, we celebrate ourselves like never before. We have several websites - Instagram, Twitter, LinkedIn, - solely dedicated to ourselves. As we continue to build these mini-online brands of 'Us', is it any surprise our names take on a more important status than before; that we want to promote them and show them off, associate them with our most desirable and luxury possessions?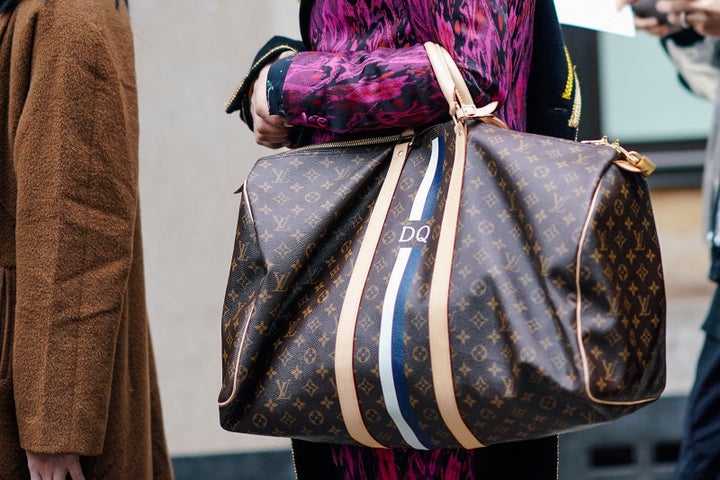 My fashion editor pal goes hard on the monogramming and it always looks great. Her Levis denim jacket with her initials in large red letters on the back is my particular favourite - perhaps because of the Pink Ladies connotations. I'm also a fan of her monogrammed Smythson diary. It might not be as attention-grabbing as the jacket, but sometimes subtly is the most elegant thing. Not to mention, elevating an everyday object to something a bit more special. Another exceptionally special piece of jewellery I own is a gold bangle from In God We Trust, a boutique in New York. I bought it on a particularly memorable trip to the city with a group of girlfriends when I was 26, newly single and buzzing with a feeling of freedom and possibility. In tiny letters, on the inside of the cuff, barely visible, are the initials of the store. I wear that bangle every day, and every day, it reminds me to be a bit braver, push out a bit further, live a bit more wildly, like I did when I was 26, had cut off all my hair off and was dancing in a brownstone party somewhere in Williamsburg without a care in the world.
Yet, despite my love of the personalisation, of attaching more meaning and memory and sentiment to items, there has to be a considered caution against overkill. Be sure to keep initials smaller, rather than larger. Monogramming is chic; megalomania is not so much. Don't monogram everything, otherwise, you might end up looking like a kid on their first day of school. Talking of kids, avoid anything that could look like it's in association with Sesame street; "Today was brought to you by the letter M!". Too much of your initial, and it could look like you are either learning the alphabet or trying to remember how to spell your own name.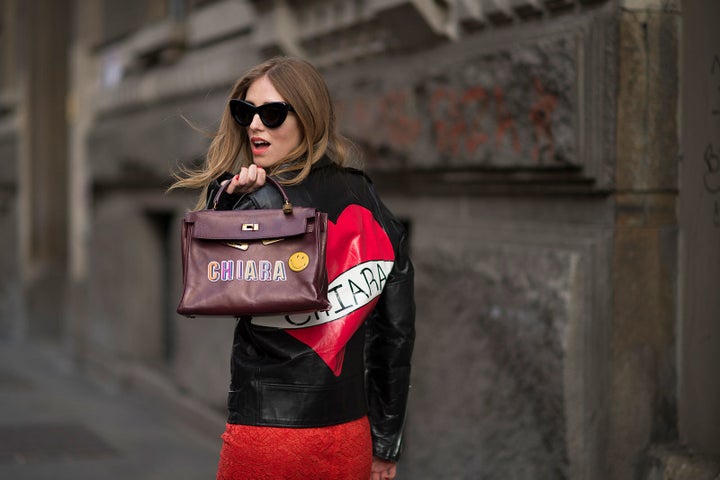 Think hard on which pieces deserve it. And it doesn't have to be the obvious stuff - like purses and handbags, cardholders and diaries. How about white letters stitched into the cuffs of your favourite grey cashmere jumper? Or letters embossed to your favourite weekend luggage? One summer, I had MB stitched into a gold thread on a floral tiered dress. It brought a tired, but much-loved, dress back to life. For a present this year, my boyfriend bought me a pair of my favourite trusty Nike blazers. But this time, on the heel, he had my initials embossed. My Nikes are now completely unique, and always make me smile. As monogramming becomes more standard and more commonplace, be inventive about where you want to wear your initials.
So maybe we have all got a bit self-obsessed but I'd stand by monogramming. Those two little letters can go along way to making the every day a bit more special.
Main image credit: Christian Vierig Getty Images