The Art Of Wearing Logos Without Becoming A Billboard
Marisa Bate
Nothing quite shows off the power of a brand as when one of the worlds most talked about celebrities offers up their bodies as a walking advertisement. The Kardashians clobber themselves in the Fendi logo like it is wrapping paper, Beyoncé has gone full Gucci and Hailey Baldwin stepped out in head-to-toe denim plastered with the word "Versace".
Of course, the logos have a brand identity but let's be honest, they are also a status symbol, and an indicator of wealth. "Look! I'm wearing very this Very Expensive Thing!" they inform us. The trend is big in sportswear and streetwear, too, from Nike and Fila to Supreme. We are, more than ever, what we wear.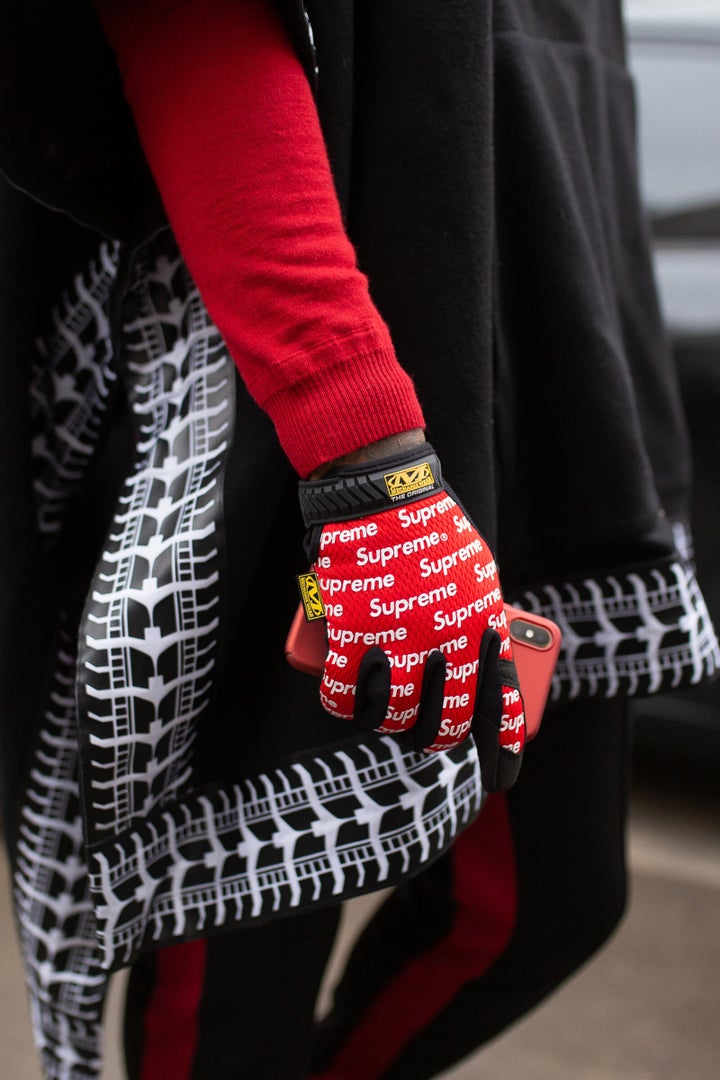 Instagram has pushed consumerism to places that some may find uncomfortable, if not confusing. Khloe Kardashian recently posted a picture of her baby daughter surrounded by Hermes Birkins - 14 of them to be exact, worth tens of thousands of dollars. Lost somewhere in this bag mountain is her smiling baby. It's not entirely clear what the message is - other than "Mummy's rich!".
A revived celebration of uber-wealth and consumerism can feel jarring in the current socio-political climate but perhaps not that surprising when the President of the United States was on The Apprentice. "There's nothing more in this world I like more than cheques...I'm a bad bitch... all I need is money" sings Cardi B on her track Money. Sure, more power to women making their own money, but something feels a little off, to say the least.
It's not a new message either, but it's one that the fashion world has taken on board, resurrecting the logomania of the 1990s which was arguably single-handedly killed by Daniella Westbrook wearing too much Burberry check. There is a lesson in the rise and fall of the brand's famous print, which is now mostly kept on the inside of its clothes: logo obsession takes a boom and bust approach precisely because it is so recognisably associated with a brand. Will your logo be able to recover when fashion moves on?
Yet, we're still very much in the boom right now, so how do you wear a logo of a brand you love or that signifies the Cardi B in you?
Unless you are an internationally renowned celebrity, be sure to avoid too much. In fact, to be safe, limit yourself to one logo per outfit. Perhaps there's a conservative little old lady in each of us who thinks labels are crass, and I'm inclined to believe her to a point. After all, there's something ultra-chic and self-confident about being defined by your attitude, behaviour and who you are, over the letters on a sweatshirt.
There's also a glorious thrill of wearing something either spectacularly cheap or eye-wateringly expensive and no one knowing. Like the silent satisfaction of excellent underwear, learn to enjoy the secret knowledge that you are a label die-hard and it's your own glorious private project.
If you are going to wear the brand in massive letters across your chest, try wearing something to compete with it. This might sound a bit hectic but it doesn't have to be: just make a feature out of whatever else you are wearing.
Pair a logo sweatshirt with a print or interesting fabric. Or dress it up - take your Nike jumper and wear with kitten heels and red lips. Or down - take your designer saddlebag and wear with running trousers. The logo needs to be more of a statement of intent than a statement of devotion. Play with it; avoid looking like you're working for them in the January sales.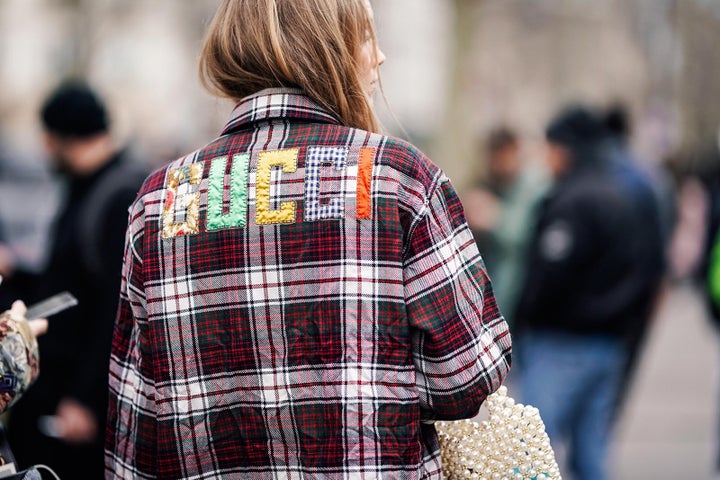 Additionally, don't be afraid to layer a logo; under a jacket, a pair of dungarees, poking out from a cardigan, a logoed handbag with a logo-free outfit. That way, the world will still see you have a thing for Balenciaga but you present it with a nonchalant shrug, hidden away, coyly pretending you had no idea anyone would spot it. Again, you're not being slavishly defined by your logo, you just happen to have it on that day.
But mostly, know why you're about to hand over a week's rent. Wear something because you love it and it makes you feel great and you bought it with your own hard-earned cash. Fashion by numbers is not a good look. If you are going to hand over free advertising to a brand (at a cost to you), know, and believe in, what you're selling.
Main image credit: Edward Berthelot via Getty Images