These Luxe Train Trips Are The Perfect Way To Travel In Style
Marisa Bate
Chances are your experience of sleeper trains is sore necks and cramped cabins. Yet it doesn't have to be that way. Make time for some of the most luxurious railway trips in the world.
As a child, my mum, brother and I would take a sleeper train down across France, through the Alps and arrive in Italy. It was an adventure like no other. We'd pick our bunks, watch the world whoosh past the window and rattle through the night.
It wasn't, however, exactly luxurious. It was cramped (and I remember thinking that as an eight-year-old), and the food on board was fine but unremarkable. Yet train travel can be an adventure that doesn't have to feel like a camping trip with a slightly firmer mattress. It doesn't have to be Marilyn Monroe in Some Like It Hot, cramped in with dozens of other girls; it can be Hercule Poirot on the Orient Express.
There's an old fashioned luxury and romance to elegant train cars and dressing for dinner whilst whizzing at 125mph. This is, of course, in part thanks to Agatha Christie (and her faithful Belgian detective) who captured the golden age of train travel on her pages. But it also speaks to a cultural craving our modern world is starting to have: taking our time, not choosing the fastest way to do something or get somewhere, and enjoying the journey as much as the destination. Especially when it's a journey of pure decadence.
If you're looking for true escape, a pause from our hectically-paced world and an indulgence of pure luxury, consider booking a ticket on one of these.
The Venice Simplon Orient Express, Europe
It is the golden age of travel just as you imagine; a champagne bar, sumptuous art deco furnishings, polished wood and Michelin star chefs on board. A recent upgrade to the Venice Simplon Orient Express has seen the addition of three grand suites, compete with ensuite bathrooms and showers which pay homage to the cities of the route: Paris, Venice and Istanbul. All you need now is a murder mystery…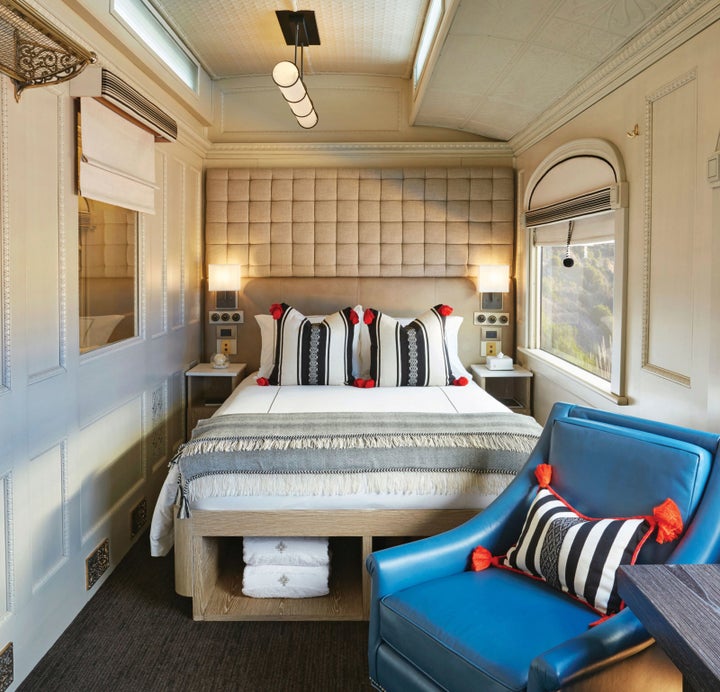 The Belmond Andean Explorer, Peru
Following one of the highest railway lines in the world, the one and two night journey is South America's first luxury sleeper. All cabins on the Belmond Andean Explorer come with an en suite and are furnished in traditional Peruvian-inspired design and alpaca wool blankets. Alongside the spellbinding views, there's a world class cocktail bar and locally sourced fresh food. Stop off at Peruvian Altiplano, Lake Titicaca and the Sumbay Caves.
The Canadian, Canada
There's something about a luxury train cabin rushing through mountains that brings to mind James Bond. Just me? The glass ceilings in the Skyline carriage of The Canadian, complete with a bar and restaurant to take in the breathtaking views, might help persuade you. This train has three classes of travel. If you pick Prestige, expect your own concierge and luxury comforts to enjoy the mountainscape, prairie and lake country.
The Ghan, Australia
Possibly the world's ultimate rail adventure, the Ghan, founded in 1929, takes passengers from Darwin, cross country through the otherworldly outback to Adelaide on a four day excursion. A spectacular journey is made uber-luxe with Platinum service. Spacious ensuite cabins are configured as living space during the day. Guests receive three course meals featuring local fresh ingredients daily and optional in-cabin breakfasts allow you to sip your coffee in bed while admiring the stunning wilderness of the outback.
The Presidential, Portugal
This might not be as opulent as some of the trains in India or Japan, but the quiet luxury feels of The Presidential are even more special because of its rich, royal history. Built in 1890 for King D. Luis I as the Royal Portuguese Train, it transported heads of state including Queen Elizabeth II and Pope Paul VI until its retirement in 1970. In 2010, the train was brought back to life for tourists and restored to its former glory, keeping all the original features. Today it takes pride in its exceptional gastronomic experience, showcasing Portugal's best food and wine.
Main image credit: Belmond