Why Your Local Artisan Bakery Is The Ultimate Comfort Hot Spot
Laura Martin
There came a point recently when the c-word became the ultimate swear word – no, the other one, "carbs". With some people claiming they were "lack toast and tolerant" (no, really), the whole idea of eating bread became smeared with the notion that it was a little bit dirty and nothing but bad for us.
But slowly, we're beginning to rise up out of this dark period. Thanks to books such as Carbs by Laura Goodman or The Nordic Baking Book by Magnus Nilsson, extolling the virtues of this macro-nutrient once again, it looks like bread is back on the menu.
It's good timing. In the past few years the UK's artisan bread revolution has become, well, the best thing since sliced bread. With most bakeries now offering loaves made from sourdough, rye and even ancient grains, it's made even creating just a sandwich a full-on culinary experience.
And thankfully, it's not just a trend that's popular in London. Across the UK, there's a legion of up-and-coming bakers – either self-taught or trained up by masters of the dough – developing and making batches of loaves to make even the most ardent anti-bread crew relent and carve off a slice.
Here's our pick of the best six artisan bakeries to visit in the UK.
This Dalston favourite started out as a social enterprise, with just a couple of staff members baking in an old shipping container. It's now one of London's most respected bakeries, with a killer café menu and some of the best pastries this side of Paris. As if you needed any more incentive to visit, it's also Nigella Lawson approved - she recommends the potato sourdough, btw. Their chunky, gourmet sandwiches have also become famous across Dalston and far beyond.
The folks at this Hackney bakehouse were making sourdough long before it became cool, and to this day, many of the top restaurants in the capital choose their bread for their establishments. That it's a hip hangout goes without saying, but they're also obsessed with experimenting with ancient grains, so a visit here might see you checking out a spelt loaf or a wholemeal miche. They also host regular Syrian Supper Clubs, and have raised more than £130,000 for charity. These are real feel-good carbs.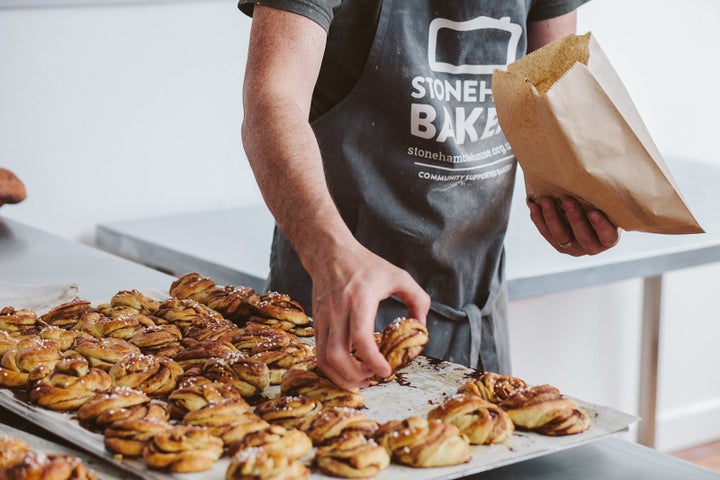 Stoneham Bakehouse bakes bread "for the community, by the community for the benefit of the wellbeing of the community". Their loaves have become something of a limited edition drop, as the bakery is only open on Thursdays, Fridays and Saturdays, meaning it can become a literal bun fight, with a queue out the door to match. While we're on the subject of buns, make sure to try their cinnamon variety - there's more cheer in these than the whole of Denmark on a hygge retreat.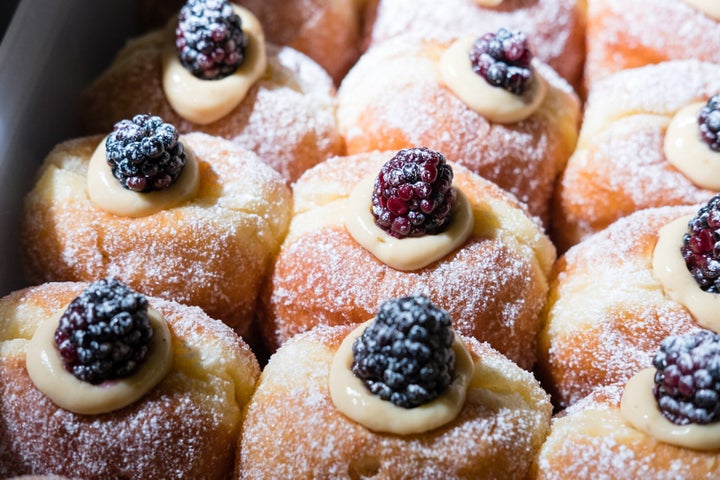 With its vast warehouses and cultural goings-on, The Baltic Triangle of Liverpool, could rival Berlin for coolness - but even the most cutting-edge creatives need to eat breakfast. Step forward the Baltic Bakehouse, who make "the best bread in the city" according to The Telegraph. They've recently opened up another branch in Allerton, meaning that their loaves - and drool-worthy doughnuts and cakes - are up for grabs across several neighbourhoods now.
Set on the water's edge of New Islington Marina, Pollen Bakery is a dead ringer for the baked-goods holy grail of Tartine in San Francisco, but thankfully, you don't need the air-fare to taste equally exceptional pastries and loaves this side of the pond. Pollen calls itself a niche "sourdough and Viennoiserie bakery" and its spot on the water's edge of New Islington Marina makes it the perfect place to have a coffee, a bite to eat and make like you're on holiday. Make sure to say hi to their resident dog - Maru the chow-chow.
Bristolians have really taken Hart's Bakery to their, well, hearts, since it opened in 2012. The setting is just as iconic as their home-crafted bread, with the bakeshop and cafe based in a large Victorian railway arch by Temple Meads station. Stick around for their weekly specials - the porridge sourdough is the bake of the day on Wednesdays, while Saturdays is all about the olive and rosemary loaf.
Main image credit: Johner Images via Getty Images