Why St. Kitts Is The Caribbean's Best-Kept Secret

Due to the COVID-19 pandemic, restrictions and protective measures may be in place at time of travel. Please check travel advice and availability of activities at time of booking.
St. Kitts will absolutely capture your heart - here's how.
St. Kitts, known as "Sugar City", is the Caribbean isle that proves good - no, great - things come in small packages.
One of the Leeward Islands in the Lesser Antilles, the entire land area of St. Kitts is only around 170 km2 - but it's an idyllic escape for anyone.
St. Kitts is the perfect holiday getaway if you want to chill on the beach, challenge yourself with an outdoorsy adventure, get immersed in local food and drink or just feel welcomed by the local community - and you can get there with British Airways. You can book with confidence, safe in the knowledge that you can change your date or destination if you need to.
Be sure to watch the video below to see what Richard got up to on his travels in St. Kitts (filmed pre Covid-19).
"The beauty of St. Kitts is it's small enough to travel around in a day, but big enough that there's plenty to explore," says blogger Richard Lee Massey, who flew to St. Kitts with British Airways from London.
"But the most enchanting quality about St. Kitts is her people. Smiles greet you wherever you go," he adds.
St. Kitts is the destination of choice if you want to feel white sand between your toes and immerse yourself in the warm, turquoise blue waters of the Caribbean Sea. Now all you need is delicious food: enjoy a fresh lobster dinner on the beach at Cockleshell Bay (head to Reggae Beach Bar & Grill on Friday nights for Lobster Fest).
"Travel for me is about getting out of your comfort zone and experiencing something new," says Richard.
If you feel the same hunger for adventure, you can try a range of watersports including jet-skiing, parasailing and flyboarding - a must for the adrenaline junkie - as you take in the views of the lush, verdant island.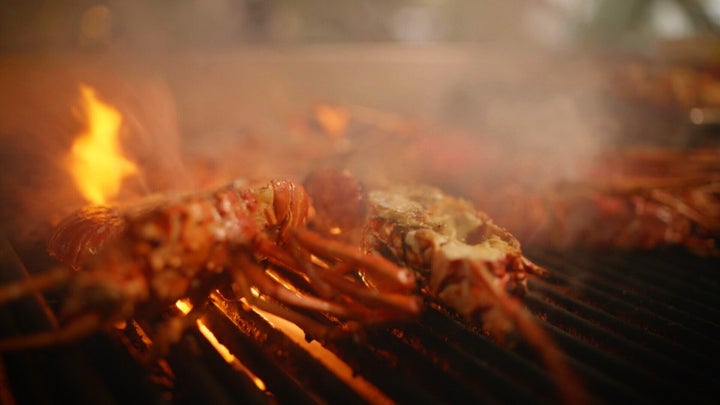 For those who want to keep their hearts racing, ziplining through the rainforest at Wingfield Estate is one exhilarating way to take in those panoramic views. Suitable for all thrill-seekers, daredevils can opt to go down the 300-foot line for their descent.
The local foodie scene has something for everyone: lobster, roti, conch fritters, sugar cakes, the freshest fruits and vegetables... Book into a cooking class to find out all about local, authentic flavours, then use these vibrant ingredients to create your own beautifully colourful and aromatic dish.
"It's like St. Kitts on a plate," says Richard of the rice and peas dish he prepares during his Cook like a Local course at Fairview Inn & Botanical Gardens. The secret ingredient to give the pudding a bit of extra kick? Rum, of course.
"St. Kitts may be small in size but it's big in heart... and this charming island has definitely won mine. It really is a slice of paradise," says Richard.
Dreaming of a St. Kitts getaway? Book something to look forward to and secure your Caribbean holiday with a deposit starting from £75pp. Book now and change later with flexible booking options. ATOL protected. Find out more at ba.com/stkitts.